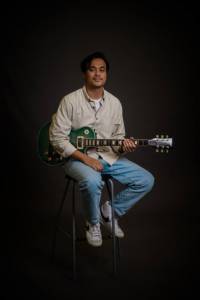 Senior :

Acoustic Guitar, Electric Guitar, Ukulele & Electric Bass
Available :

Wednesday, Thursday, Friday, Saturday & Sunday
Spoken Languages :

English & Malay
Lessons via :

Face2Face & Online
Afiq Faudzi is a full-time musician working free-lance as a guitarist as well as composer. Afiq is a Bachelor's Degree graduate, majoring in performance, from Akademi Seni Warisan dan Budaya Kebangsaan (ASWARA). He is among the few graduates who excelled in his performances and was honoured with the Award for Best Performance for his final project (PETA).
Performing regularly with a number of artists with Kartel Productions including; Joe Flizzow, Altimet, SonaOne, Ila Damia and Balan Kashmir, Afiq is also active performing with his own band and often called to perform for local events and music festivals. He is also a music producer at Paradoxe Productions and is known for his work with jingles and music programming.
Afiq has been actively teaching guitar, from electric, acoustic, bass and ukulele since 2006 with the genre focus on Pop, Rock, Blues and RnB music.
At Bentley Music Academy, Afiq is known to be a teacher who provides his students with not only the theoretical knowledge and practical skills, but also encouraging his students to actively perform as he has firm believe that one is not a truly skilled musician if one is not able to perform well. Through his lessons, Afiq inspires students with his principle that "Music is not to be learnt for the sake of a number on a score sheet or kept hidden to oneself at the corner of one's room. Music should be shared for the enjoyment of oneself and others".
Register Now with Afiq Faudzi