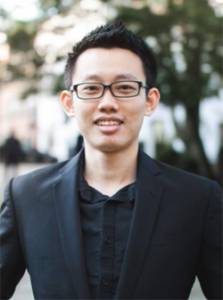 Standard :

Classical Piano, Classical Voice & Conducting
Available :

Tuesday, Thursday & Friday
Spoken Languages :

English
Lessons via :

Face2Face
Darrel Chan has completed his Bachelor (Honours) in Piano Performance, Master and Advanced Postgraduate Diploma in Choral Conducting at the Royal Birmingham Conservatoire, UK, having studied with Philip Martin and David Quigley (piano), Paul Spicer (conducting) and Julian Pike (vocal).
Darrel has worked with established choirs such as the Birmingham Bach Choir, Ex Cathedraand Junior Guildhall Chamber Choir, London. During his studies at the conservatoire, Darrel has been awarded the Guy WoolfendenPrize on behalf of the Denne GilkesMemorial Fund, a prize for young conducting students in 2017, and the Michael Beech Conducting Award, an award for distinction in conducting in 2018.
Darrel was the chorus master for the Royal Birmingham Conservatoire's Official Royal Opening Gala Concert in March 2018, and he also conducted the "Venite" from Byrd's The Great Servicein a concert with the Birmingham Bach Choir, as a conducting scholar the same year.
In the years 2013 to 2016, Darrel has participated as a choir member, pianist (four hands piano) and choral conductor for "Bar 4", a choir based in the UK that holds concerts to raise funds for charity. He was also conductor of the Aston University Choir for six years.
Darrel is also an active collaborative pianist and vocal coach, working extensively with singers and instrumentalists in the UK and Malaysia. He was the harpsichordist for Ensemble Sonora, a Baroque chamber group based in Birmingham. In 2018, Darrel won the accompanist prize of the "Stuart Cameron Smith American Song Prize" and was also assistant conductor/ répétiteur/harpsichordist for the conservatoire's production of Monteverdi's Madrigals of War and Love.
As a countertenor, Darrel has performed with the Royal Birmingham Conservatoire Chamber Choir as well as the Birmingham Bach Choir. He has also performed the alto solo role in Mozart's Requiem and Vivaldi's Gloria RV 588 in Malaysia.
Register Now with Darrel Chan