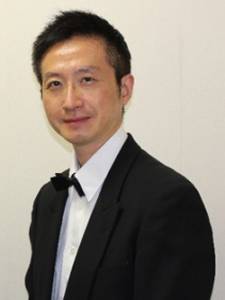 Senior :

Classical Piano
Available :

Monday, Tuesday, Wednesday, Thursday, Friday, Saturday & Sunday
Spoken Languages :

English & Japanese
Lessons via :

Face2Face & Online
Minoru Miura was born in Tokyo, Japan, he began his musical studies at the age of three. He later studied at the Toho GakuenSchool of music in Tokyo, Juilliard School in New York City, Franz Liszt Academy of Music in Budapest, Hungary, University of Washington in Seattle and the School of Music, Texas Christian University in Fort Worth, Texas U.S.A.
He studied with major teachers including Mr. YasuoWatanabe, Ms. OlegnaFushi, Mr. GyulaKiss, Mr. Bela Siki, and Dr. TamasUngar.
Mr. Miura received several international prizes including the Silver Medal from Finale LigureInternational Competition, (1989) in Italy, Diploma Award from the ViottiInternational Competition (1989), and was a prizewinner of the Northwest Young Artist Competition (1992) in Seattle.
Mr. Miura continues to concretize including very successful recitals in the Tokyo Opera City Hall, one of the most respected venues in Tokyo. He also made major public performances in the Kisterem Hall in Budapest, Ed Landreth Hall, Walsh Performing Center in Texas, U.S.A., and Steinway Hall in Tokyo.
Mr. Miura was an assistant professor of piano at the Shobi University Tokyo for 8 years. Also, he regularly judges the PTNA (Piano Teachers National Association in Japan) Piano Competition since 2006, and was a member of the International Jury for The 2007 World Piano Competition, in Cincinnati, OH. U.S.A. He was a jury of the Aloha International Piano Competition in Honolulu, Hawaii, in June of 2017. He is now member and competition jury of the MTNA (Music Teachers National Association) in U.S.A.
His students have received numerous awards, including the 3rd prize of ASEAN International Chopin Piano Competition 2018, and Gold Prize of Hong Kong International Music Competition for Young Pianists, Malaysia Round, 2019.
Register Now with Minoru Miura