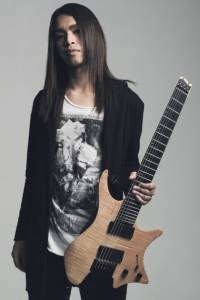 Standard :

Classical Guitar
Senior :

Electric Guitar, Acoustic Guitar, Electric Bass & Ukulele
Available : 

Friday, Saturday & Sunday
Spoken Languages :

English, Japanese & Sign Language
Lessons via :

Face2Face & Online
Adil has been teaching and performing a variety of guitars from classical, acoustic, electric, ukulele, and bass guitar for nearly 10 years; teaching students from absolute beginners to diploma standard for the Rockschool syllabus. In 2016 Adil was awarded the Top Teacher Award in BMA.
Adil has amassed experience in music production both in the recording studio and theatre. In 2014 he was awarded 2nd place for the Indi.com Bumblefoot Guitar Challenge, playing Chopin's, Fantaisie Impromptu, and also performed with Bumblefoot (Guns N Roses/ Art of Anarchy) in Kuala Lumpur. He has also appeared as opening act for Ibanez Artists Kiko Louriero and Tosin Abasi, as well as Korean pop rock band, CNBLUE.
Adil has recenty released a solo album featuring guest musicians Adam Rafowitz, (Arch Echo) Adam Bentley (Arch Echo) Tom Monda (Thank You Scientist) Diego Tejeida, and Conner Green (HAKEN), Bumblefoot (Sons of Apollo/Guns and Roses) and Luke Martin (Plini).  He is also now an endorsee for Strandberg Guitars under their Associate Artist Program.
In 2015 he attended the world renowned Freak Guitar Camp, in Sweden, where he studied South Indian Music, and has been a student of Tom Monda (Thank-You Scientist) for a number of years.
Register Now with Adil Rahim