Aeroworks & Aeroworks Junior – for people who breathe!
Aeroworks is an introductory course which acts as a solid foundation for new learners before picking up any brass & wind instrument. It will also help those who have learnt to play by strengthening their core skills.
Course Details:
There will be 2 levels in this course
Each level takes a year to complete
Duration for each lesson varies by age group
Class size: 3 – 5 students or individual lesson
Open to everyone aged 3 to adult
Course Details:
Age 3 to 7
Duration: 30 to 60 minutes depending on age group.
Class Approach: Using games to introduce music elements for kids to apply their skill.
Who is suitable for this course:
Children without music background
Children who are currently learning an instrument
Children who are not sure which instrument to start with
Course Details:
Age 8 and above
Duration: 90 minutes
Class Approach: Detailed explanation in depth for every music elements and skills.
Who is suitable for this course:
People without music background
People who are currently learning an instrument
Parents who have children learning instrument
Adults who wish to start taking up an instrument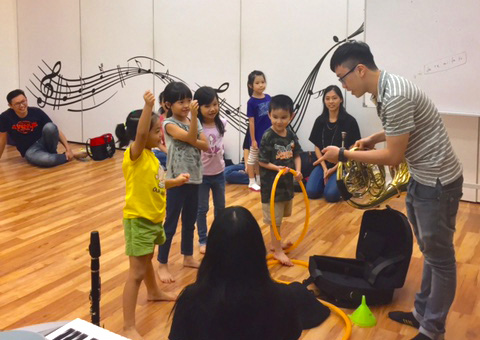 Breathing
Basic Posture
Getting to Know Embouchure
Pulse & Rhythm
Transposition
Pitch & Harmony
Articulations
Tuning & Intonation
Following The Conductor
Following Principal Player
Fingering Skills
Sight Reading
Sight Transposing
Practising Skills
Leading While Playing
Troubleshooting
Overcoming Stage Fright
Music Research
Style & Character of Music