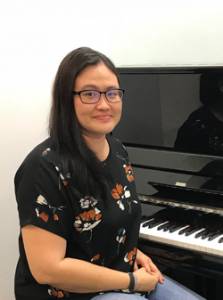 Standard :

Classical Piano
Available :

Sunday
Spoken Languages :

English & Malay
Lessons via :

Face2Face & Online
After spending 10 years teaching in UK, Kelly has returned from UK to Kuala Lumpur to settle permanently with her young family. With 18 years of experience teaching locally and abroad, alongside raising 2 young children, she has found pleasure in learning to teach, adapt and also, learn from children with different cultures and backgrounds. She strongly believes that children's lives can be genuinely enriched with a balance of help and guidance from both parents and teachers.
In UK, music is incorporated into students' daily education and Kelly was lucky enough to have had the chance to teach GCSE music briefly at a Performing Arts School in North London. Two years ago, she was trained in an award winning Australian music programme for children, 'Encore Kinderbeat' & 'Encore Junior'. She is currently a licensed teacher under Encore providing group lessons to young children in a local kindergarten and homeschooling centre.
Kelly obtained her BA (Hons) Music degree from Middlesex University, UK and prior to that, she completed 2 years of Advanced Diploma in Yamaha Academy of Arts & Music. She credits her music career to her tutors, Anne Chung and Chong Kok Ting in Kuala Lumpur, and Kate Ryder in London. During her studies in UK, she was awarded first prize for performing Oliver Messiaen's, 'Vingt Regards sur l'Enfant Jesus II' in the Modern Category and 2nd prize for her performance of Beethoven's, Sonata in F# Major, Op. 78 No. 24 at the North London Music Festival.
When time permits, Kelly also tries to volunteer at ABRSM, MYOF and other musical events, gaining more experience not just as a music teacher but what goes on behind the scenes too.
Register Now with Kelly Yeoh