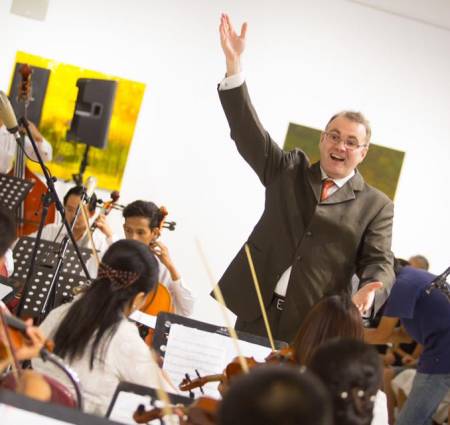 Kevin Field
Director of Academic & Artistic Development
Kevin is an international conductor and, before moving to Malaysia in 1999, BMA's Director of Academic and Artistic Development was Sub-Principal Percussionist with the Bournemouth Symphony Orchestra, the UK's oldest and most established provincial professional orchestra. Kevin was a student at the Royal Academy of Music, London when American conductor, Andrew Litton appointed him to the BSO, with whom he toured the USA twice, Europe on numerous occasions, recorded hundreds of CDs and performed more than one thousand two hundred concerts over a nine-year period.
As a drummer, percussionist, composer and conductor Kevin's performing pedigree covers rock, swing and orchestral music. Performing in big bands and orchestras since the age of 11, Kevin studied timpani and percussion at the Birmingham School of Music where, as a first year student, he performed with the City of Birmingham Symphony Orchestra making his professional debut with Simon Rattle conducting, all before graduating from the Royal Academy of Music in London with Honours. On joining the Bournemouth Symphony Orchestra he established, 'Kokoro' – the contemporary music ensemble of the BSO. Kevin later went to work with the Ballet Rambert, Saddlers Wells Royal Ballet, The Orchestra of the Bolshoi Theatre and the Royal Philharmonic Orchestra.
From 1999 to 2014 Kevin was Associate Conductor with the Malaysian Philharmonic Orchestra where he worked with world-class soloists in a variety of jazz, contemporary and mainstream inspired projects. With the MPO, Kevin commissioned Malaysian composers, Tazul Tajjudin, Sunetra Fernando, Muriz Che Rose, Adeline Wong and Jyotsna Prakash and premiered over 200 international works in Malaysia by living composers; accompanied music legends, Siti Nurhaliza and Sheila Majid, and formed both the Malaysian Philharmonic Youth Orchestra and MPO Forum for Malaysian Composers winning many awards and accolades in the process.
As a conductor Kevin has  directed the BBC Symphony and Australia Chamber Orchestra together with the MPO; the National Symphony Orchestra of Ireland, Opera North (UK) the Royal Liverpool Philharmonic Orchestra, West Australian, Melbourne and Tasmanian Symphony Orchestras. He has worked with leading international artists, among them: jazz duo, Chick Corea and Gary Burton; bandonian player, Daniel Binelli; violinist, Leonidas Kavakos; pianist, Peter Donohoe; Kodo drummer, Eitetsu Hayashi and Chinese opera specialist, Shu-Cheen Yu, to name but a few.
With a proven track record that crosses continents and generations, Kevin believes in quality music education for all and the benefits access to live music performance brings to the musician, audience and the wider community. It is this ethos, together with over 25 years of music performance experience across Australia, South America, Continental Europe and the British Isles that Kevin brings to Bentley Music Academy.