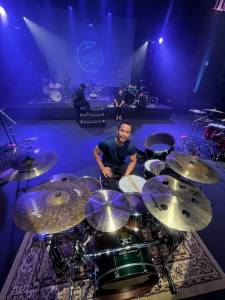 Standard :

Drums
Available :

Tuesday, Wednesday, Thursday, Saturday & Sunday
Spoken Languages :

English & Malay
Lessons via :

Face2Face & Online
Abdul Mutalib Mohd Muslim, known in the music circles as Alib, graduated in Music Performance at Universiti Teknologi MARA. He majored in Drum, with special guidance from Mr Adil Ali, a drummer for Yunalis Mat Zara'ai & RTM. Alib was a marching drummer before he diversified into band drumming. Voice of Percussion flourished under his team participation. Indeed, they gave Malaysia something to be proud of, turning up as 1st runner-up for The World Championship of Marching Show Band in 2016. Combining the best of both worlds of percussion defined him as a versatile, precise & refined percussionist/drummer.
Alib has had a solid 10-year band drumming experience with UiTM Pahang. In 2018 Alib involved in Theatre Musical Ola Bola The Musical as session drummer happening at Istana Budaya. Worked with professional and prominent musicians in Malaysia, he captured a lot of experience in the Ola Bola Musical team.
He also involved with another Musical Theatre on 2019 known as "Teater Bangsawan Dendam Laksamana" with famous director known as "Pet Ibrahim" with prominent actor in Malaysia "Datuk Jalaludin Hassan. Not only in musical theatre, Alib also freelances as a drummer for artists, such as Aqasha (Artist/Actor). He has worked with Dj Fuzz & Altimet on music videos & is also experienced in studio recording works .He maximizes his skill in session works with percussion groups such as No Noise Percussion & others.
Every year Alib involved his work mostly with the A-Music Team in Malaysia, together with his band Lukarts Music Alib and his band won Vans Most Wanted Musicians. Performed at "Nasi Lemak Kopi O" happening at TV3 shows and weekly show outside.
2022, Alib involved with a lot of musical events such as "Maharaja Lawak Mega" and the rest are on his list. Currently on October 24th-25th, Alib involved in Malaysia Drum Day happening at Aswara with the involvement of 10 others professionals drummer such as "Azim Jenk Ali, Arthur Kam, Gary Gideon and more.
Not only as professional session drummer, Alib also work in education side which is he work as Drum instructor at Sekolah Sri Kdu Kota Damansara to teach young generation in music especially Drum.
Register Now with Abdul Mutalib