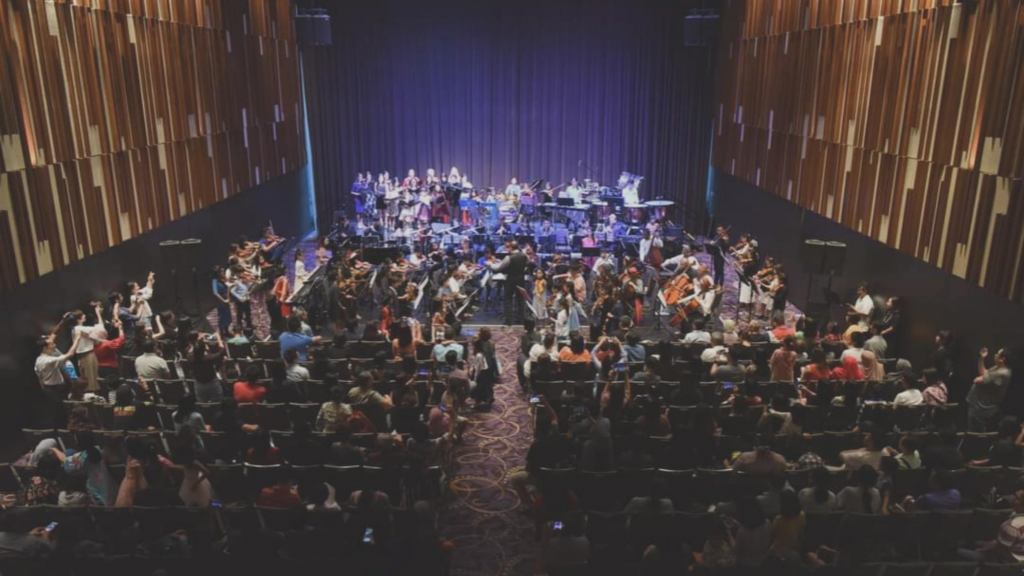 Come and join the team at BMA!
Do you have something special to offer BMA that separates you from all the rest; are you fully committed to music and enjoy the challenges and rewards that teaching provides. If the answer is 'yes', then we want to hear from you!
BMA has over 60 national and international teaching staff offering a variety of instrumental and vocal disciplines in two main faculties – Orchestral and Contemporary Music. BMA also offers programmes in teacher training; all music grades to performance diploma, composition, theory, aural, and general music appreciation.
Located in both the heart of Mutiara Damansara and central Kuala Lumpur, Bentley Music Academy (BMA) provides a lively, energetic environment that promotes "Performance First" as its maxim, and can proudly claim to be one of the country's leading music-learning establishments.
BMA Teaching Staff
Open seven days a week, with peak activity from 4pm each day and over each weekend, BMA operates four terms of eleven or 12 weeks per year.
All candidates applying for instrumental and vocal positions will be expected to work on demand, as may be required, under a freelance 'contract for service' term and, will be required to dedicate a minimum of 8 hours per week to the school.
Applicants must be educated with a minimum diploma or degree on their related instrument or voice.  Successful applicants will be interviewed at which time they will be asked to demonstrate their musicianship, on instrument or voice, as well as deliver an 'example lesson' with a third party. If successful, each applicant will, on registration, be assigned a position, as Standard, Senior, or Master teacher, relative to their individual combination of qualification and experience.
We currently do not have any vacancies.
You may wish to send your CV and complete the form required in advance of any situations that become vacant.
Download the
application form here
and email to
recruitment@bma.com.my
on completion, together with a link to videos of your playing of two contrasting works. Please detail all video content in your cover email.Any particular queries or clarifications relating to the teaching and operation at BMA can be emailed, prior to an interview, to: Kevin Field, Director of Academic and Artistic Development, here:
director@bma.com.my
BMA Management



All applicants must show a passion for the arts in general, particularly in music, and be educated to a minimum of diploma or degree in a related field.
Excellent customer service skills are essential, as is being able to think clearly and operate with calm, prompt efficiency. You will be expected to work shifts, and be able to converse in English, together with either BM or Chinese. Having knowledge in music and music instruments would be an added advantage, but not essential.
We are looking for a dynamic candidate to join us and our team as:
Administrator Assistant (Front Desk)
Main responsibilities will include processing student enquiries, enrolment, invoicing, scheduling of lessons and fee collection pertaining to music courses offered, as well as provide assistance to the BMA Senior Management in daily operational matters.
Kindly call 03-7727 3333 ext. 660, or email your resume to hr@bentleymusic.com outlining what you would bring to the position that would benefit the school and company in general.
Equal Opportunity Statement
Bentley Music Academy (BMA) is an Equal Opportunity Employer, oriented to workplace diversity and inclusion.
We do not tolerate any type of discrimination or harassment based on race, colour, sex, religion, sexual orientation, national origin, disability, genetic information, pregnancy, or any other protected feature as defined by federal, state, and local laws.
All employees, regardless of where they are from, are protected under the Employment Act of 1955 (Malaysia) concerning statutory benefits and labour protection.
This policy applies to all employment practices: hiring, recruiting, promotion, termination, layoff, recall, leave of absence, remuneration, benefits, and training procedures within our academy.
BMA makes employment selections, considerations, and decisions, exclusively based on qualifications, industry experience, criminal histories, and current business needs.
Put simply: BMA treats everyone equally.